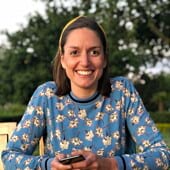 Leonie Sommer
Managing Director Germany – Business Growth
Hi, I am Leonie. In 2019, I joined OnlineDoctor as Managing Director Germany. Since recently, I am additionally responsible for marketing and communication for all countries. One working day is not like another. Every day I encounter new challenges, exciting opportunities, good conversations and a lot of fun. Typically, a working day starts with me structuring the day and getting an overview of unread messages. This is followed by many digital meetings and answering Slack and email messages. Every day I try to give myself 2 hours of focus time where I can prepare topics and think through new concepts.

I value three things above all about my work at OnlineDoctor:
Openness, professionalism and flexibility.
At OnlineDoctor we live a transparent culture, everyone can talk to everyone and we support each other where we can. We trust ourselves and our employees 100%. We do not count working hours, everyone can organize his or her working day in the way that suits him or her best.
Because we work with many different stakeholders, professionalism is very important to us - it starts with our product and ends with customer support.